Details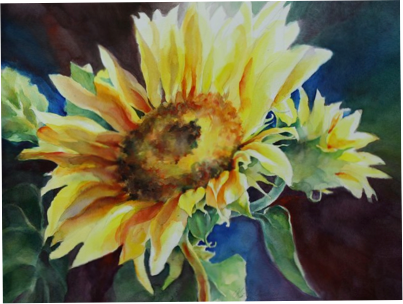 Excitement comes in all sizes and shapes these days. From requests to teach workshops to the upcoming Scotland trip to study with master water media artist Stephen Quiller, this has been an amazing few months. And it just keeps coming!
Recently, I entered "23rd Psalm" (below) and "Remembrance" (see my Florals) in the Richeson 75 Still Life & Floral 2010 International Competition, and both of them were accepted! For an artist who has no "region" in which to compete on her way from locally known to nationally known, this is a huge step. You see, Reno is geographically pretty isolated, so all the venues jump directly from local (a 50 mile or so radius) to national. That means a big jump in the level of expertise in competitors.
OK, so now you can appreciate how exciting it is to find out "23rd Psalm" was awarded 2nd Place in the Other Media category.
Did I jump up and down in circles making Woohoo! noises? Oh, yeah. Thank you again, Jane Hofstetter and Mike Bailey. Thank you, thank you, thank you!
Details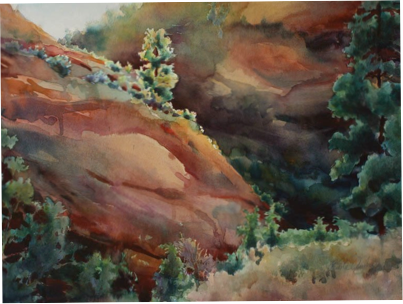 Remember me saying how much I learned from Mike Bailey? (Getting Serious About Design, Sunday, May 30) Well, I got another boost from excellent artist, Jane Hofstetter (7 Keys to Great Paintings). Right in the middle of her demo last month, everything just went "click"...you know, the kind of "click" you feel everywhere in your body.
I went straight home and went to work on every painting I could get my hands on. "Testament" was one of them. I also started a new one of anthuria done wet-in-wet that almost finished itself, and I am so excited about painting again that I can't believe it.
Oh. Hey. I know lots of you don't believe it, but Everyone runs into those walls now and then no matter how much painting you've got under your belt. You reach a point where it seems like you're always always making the same mistake over and over again or painting everything the same old way. For me it was the latter, and no, it's not easy hauling yourself over those walls.
Why is it so hard? Because it's time to learn something new, to think differently. It's time to grow. And that requires not only effort but a fair amount of discomfort and frustration.
It's worth it, though. I'm dreaming in colors I've never used before and planning paintings I couldn't have imagined six months ago!
So no matter how thick and tall that wall is, climb it. No matter what. The view from the top is incredible!
Details
For those of you who thought I'd forgotten, here is the sunflower painting I demonstrated in last year's Summer Flowers in Watercolor class at TMCC's Continuing Ed campus. Not only that, it has been accepted into the Richeson 75 Still Life/Floral International Competition in Wisconsin! Here is a photo to show you where I was when we ran out of class time.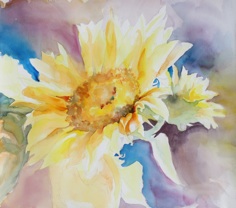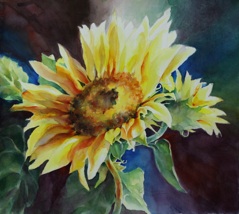 Details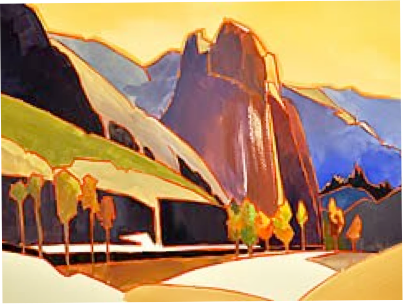 If you are looking for someone to help you with design, I have a couple of great names: Mike Bailey and Jane Hofstetter. Back in March, I took "Watercolor - Beyond the Obvious" from Mike and learned so much that I was dreaming about painting all night long. It was great! I'm still jazzed.
A couple of months later, I got to watch Jane Hofstetter, the author of "7 Keys to Great Paintings" demonstrate. Wow. Did she live up to the hype! About halfway through the waterfall, what she was saying and doing combined with what Mike had said, and I swear I could actually feel things go "click"! I am seeing paintings, mine and others', in a totally different way. Shapes instead of things, light and dark pathways, focal areas instead of focal points. This is beyond jazzed.
Now we'll see what I do with it.
Details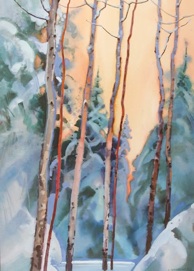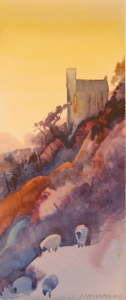 I am incredibly excited about this coming August and September. A deep love of the United Kingdom has something to do with it, of course, but add a Stephen Quiller workshop to it, and now you're talkin', honey! Aside from being a phenomenal painter, that man can teach!
Armed with the amazing insights I gained during Mike Bailey's "Watercolor Beyond the Obvious" workshop last March, I expect to make some of the big steps forward I've been working toward for the last four years. With luck, I'll have the opportunity to paint some of the people of Scotland, too, something I've always wanted to do.
David and I will spend time in Wales and Northern Yorkshire, seeing for the first time where our ancestors came from. I especially want to return to Rivaulx Abbey, one of the true holy places in the world and the inspiration for several past paintings. We're still finding out whether or not I'll be permitted to paint on site.
Either way, I'll be returning with new insights, new paintings, and plenty of inspiration!
Pictured at right:
Highland Sheep Painting #3
by Stephen Quiller
Transparent Watercolor