It's been a while, but despite prolonged family illness, death, and a car wreck...oh, did I leave out war and famine?... I'm back. Oh, boy, am I back! I just got news that my painting, Guardians at the Gate, has been accepted into the Northwest Watercolor Society 71st Open Exhibition!
For the uninitiated, the NWWS is one of the top-tier watercolor societies in the States, and this exhibition is one of the mileposts many professional artists strive for. Am I excited? Oh, yeah.
One of the most amazing, sobering parts of this was seeing my name on the same list as Jean Dobie, Ted Nuttal, and Eric Wiegardt. In a word, Wow.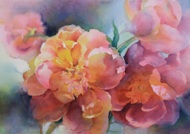 Not only that, but "Summer Bright" (right photo) has been juried into the Richeson 75 Still Life & Floral 2011 International Competition in Wisconsin. Whooee! I could get used to this.
Seriously, though, this has taken some hard work. If I could put it in a nutshell for you, I would repeat what Mike Bailey said when he was talking about getting into the big shows. "Great design trumps great technique every time."
So break out Frank Webb's design book (I got mine from the printer online) and Stephen Quiller's newest book, Water Media Painting with Stephen Quiller and check out his chapter on composition. Study. Visit museums and galleries. Take workshops.
Push yourself hard, and you'll get there. Now go paint!