Details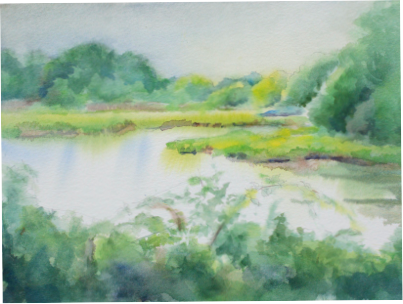 Waiting for a hurricane is an odd pastime. For us, it's been one-third final errands (topping off the gas tank, searching for one more flashlight in shopped-out stores, getting a few more groceries), one-third prep (I just finished filling the bathtub with water so toilets can be flushed), and one-third watching the storm's progress in the skies and on TV.
Our neighbors two doors down, on the other hand, are having a hurricane party. This aparently involves watching movies and eating popcorn until the power goes out. Which it will. Trees + power lines + prolonged high winds = power outages, and there are one heck of a lot of trees around here.
The good news is that Irene has quieted down to a category one. The bad news is that we're on the heavy wind side of her and she is huge -- about 500 miles across and still spreading. Therefore, we are expecting blocked roads and an opportunity to try out that new flashlight.
This morning, we woke up to soft, overcast skies without a breath of wind. It was so quiet it gave us the feeling we should be looking over our shoulders to see what was sneaking up on us. When we did, it misted on us. (As opposed to raining on us.)
The rain, when it came around lunchtime, was very calm. Almost matter-of-fact. Someone upstairs turned on a faucet for about an hour, soaked things toroughly, then turned it off. No wind, no cold. Since then, we've had some cooling, a couple of showers, and lots of clouds.
Inside, we now have enough flashlights, canned food and water for 4 (the dog and the cat need such things, too) for 10 days, an official emergency "kit," clean laundry, a nervous poodle (he knows something's up and can't figure out what), and one tired Kate.
We're ready, though. It's a good thing, too. The wind has finally picked up outside a little.
It's midnight. I'm going to bed. Hugs to all.
Kate
Details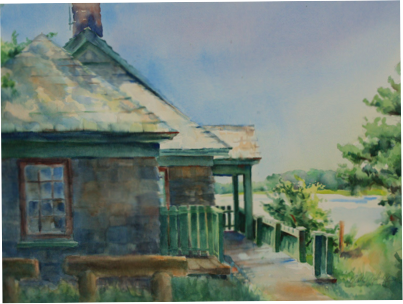 Enough bragging. Life is full of other interesting stuff, too.
Like Irene. That's Hurricane Irene to those of you who are just now hearing about the mandatory evacuation of New York City. Since this is our first hurricane/tropical storm, I thought I would post what it's like here on the blog.
Today, we've just finally figured out that the best thing to do is stay on-Cape. Between media overhype to increase ratings and politicians making sure their heinies are well-covered, it wasn't an easy decision. Your first clue, it turns out, is when the announcers on a certain weather specialty channel start sounding disappointed that Irene probably isn't going to make Category 4 before howling across North Carolina. By then, of course, it's too late to miss the evacuee-choked roads if you do decide to leave.
Fortunately, I didn't wait on the TV announcers. After questioning various long-time residents and a local fireman, we are satisfied that the storm surge and wind damage aren't big problems where our house is located. Also, David's fellow workers at NOAA have a lot more information on Irene than most people and no reason to skew it.
The Woods Hole facility's computers are being backed up in another location, but the facility is not being shut down. They say it will be somewhat worse than usual, but not up to Hurricane Bob standards, so we have decided to stay on-Cape whie she blows through.
We now have radios and the batteries to run them (hard to find as early as day before yesterday, but I found 'em), 10 days' worth of water and non-perishable food, tarps and duct tape, and the host of supplies we're told we should have in our emergency kit. Lawn furniture and my potted herbs and flowers will come indoors tomorrow.
The power will likely be out for a while, and our cell phons probably won't work for that same "a while," but we're ready. In the meantime, I plan on reading, writing, and painting while we wait her out.
It's Friday evening, the sun is shining, the sky is blue, it's very humid, and there's not a breath of wind.
Stay tuned.
Kate
Details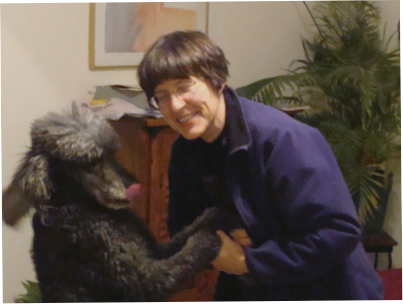 ...we've seen a lot of them in the last seven weeks; we being one husband, one incredible brother-in-law, one poodle, and one cat. My apologies to those of you who haven't heard from me during that time period.
With almost no notice, we had 3 weeks to fly to Massachusetts, get a rental to live in (which we did not get, actually, until the day the moving van simply couldn't put off delivery any longer. Talk about stress...), pack up a household and my business with all its supplies, get our house rented, arrange for teachers to take over as many students/classes as possible, say goodbye, and drive 3003 miles to Falmouth, Massachusetts on Cape Cod.
Why, you ask? Believe me, there were times we asked ourselves that. The short answer is that my husband is now employed with NOAA at their Woods Hole fisheries location. He loves it, which makes all the craziness of moving worth while.
Our landlords came through at the last minute after fighting their way through The Closing From Hell and allowed us to deliver our furniture to their newly purchased future-retirement-house the day before our lease started. We are So Grateful...it saved us about $4000 in add-on moving fees. Whew!
Since then, unpacking has ruled my life. I have made time for two figure-painting sessions and one plein aire session with members of the Falmouth Art Guild, but that is literally all the creativity I have had the time and energy for since early May. I don't know if I have ever been so tired.
Fortunately, my back and neck finally convinced me to take a couple of days "off". I spent them reading and doing as little as possible and *poof!* I feel human again. Yay!
Now I have this burning need to paint and write chewing on my rear portions, plus 3 unfinished paintings sitting and staring at me. The rest are all still packed up, but that won't last long.
I'll be back in a couple of days with photos of said paintings, maybe an art tip or two, and lots of love to all of you in Reno.
Oh, yeah, and maybe some photos of the area. I was so exhausted during and after the trip that I never broke out my camera. Even I can hardly believe that!
Happy painting,
Kate
Details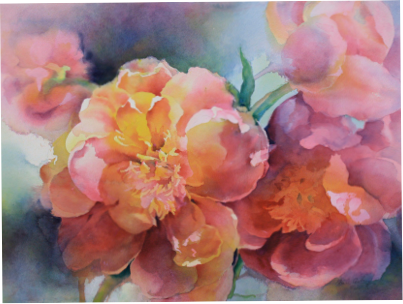 You've all heard of the Big Fish Little Pond Scenario, haven't you? Well, so had I, and believe me, there are so many highly accomplished artists out here "on-Cape" that I was feeling a bit intimidated.
The best cure for that, of course, is to take a deep breath and plunge in, so that's what I did. Paintings were finished and framed. Shows were located and entered, paintings were delivered, and breath was held.
The outcome? Three sales (at more than twice the regular price in Reno...wow) and a first place in watermedia in the Falmouth Artists Guild's Summer Juried Show for "Summer Bright"! I've included photo below. Out of 248 pieces entered, only about 60 were accepted, so it was very exciting.
So thank you all for your encouragement. It would have been hard to work up the nerve without it.
Details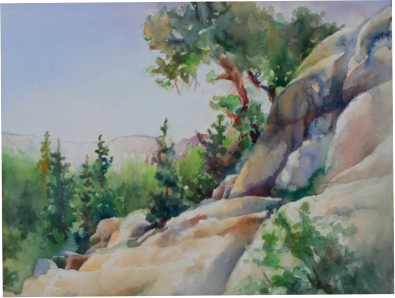 It's been a while, but despite prolonged family illness, death, and a car wreck...oh, did I leave out war and famine?... I'm back. Oh, boy, am I back! I just got news that my painting, Guardians at the Gate, has been accepted into the Northwest Watercolor Society 71st Open Exhibition!
For the uninitiated, the NWWS is one of the top-tier watercolor societies in the States, and this exhibition is one of the mileposts many professional artists strive for. Am I excited? Oh, yeah.
One of the most amazing, sobering parts of this was seeing my name on the same list as Jean Dobie, Ted Nuttal, and Eric Wiegardt. In a word, Wow.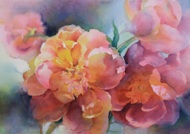 Not only that, but "Summer Bright" (right photo) has been juried into the Richeson 75 Still Life & Floral 2011 International Competition in Wisconsin. Whooee! I could get used to this.
Seriously, though, this has taken some hard work. If I could put it in a nutshell for you, I would repeat what Mike Bailey said when he was talking about getting into the big shows. "Great design trumps great technique every time."
So break out Frank Webb's design book (I got mine from the printer online) and Stephen Quiller's newest book, Water Media Painting with Stephen Quiller and check out his chapter on composition. Study. Visit museums and galleries. Take workshops.
Push yourself hard, and you'll get there. Now go paint!